The equal to life and death and the cycle of what comes around goes around has been around for thousands of years. Especially in the asian culture they have had the yin and the yang. Do you personally think that you are reborn in another form once this life ends? I believe that it no matter what you believe in the most import ants thing is is enjoy the destination.
What does ying and yang mean?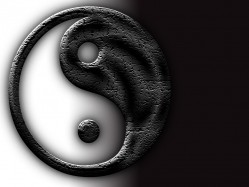 According to Dictionary.com, yin and yang is a noun and meaning (in Chinese philosophy and religion) two principles, one negative,dark, and feminine (yin) and one positive, bright, and masculine (yang) whose interaction influences the destinies of creatures and things.
Where is the explanation of the circle of life and death?
My beloved grandmother pasted away this past Sunday February 24, 2013 at 97 years young. When she was 70 years old, I was born and she took care of me because my parents were traveling for business. I had a much better relationship with my Grandma and a lot more respect for her because of what number of grandson/son I was. Birth and death is the circle of life, right? She took care of me in the beginning of my life and at the end of her life I took care of her. I love her more than anybody in my life until I find my life…
What I learned from Gma is so important to be thankful for life, death and how it happens.
She could have lived a stronger life in the sense of strength, physical strength. Mental strength, she was super human in that sense. I swear she could speak what you wear going to say before you could say it. My grandma had 3 sons pass away or experience death before or while I born especially my grandfather who I never met.
Live life happily and do not forget your friends and first and most important family.
Make this day the best day ever
- Jon-Michael McFarland
{ 0 comments }